School Performance
Key Stage 2 SATs 2017-18 Results
Reading progress score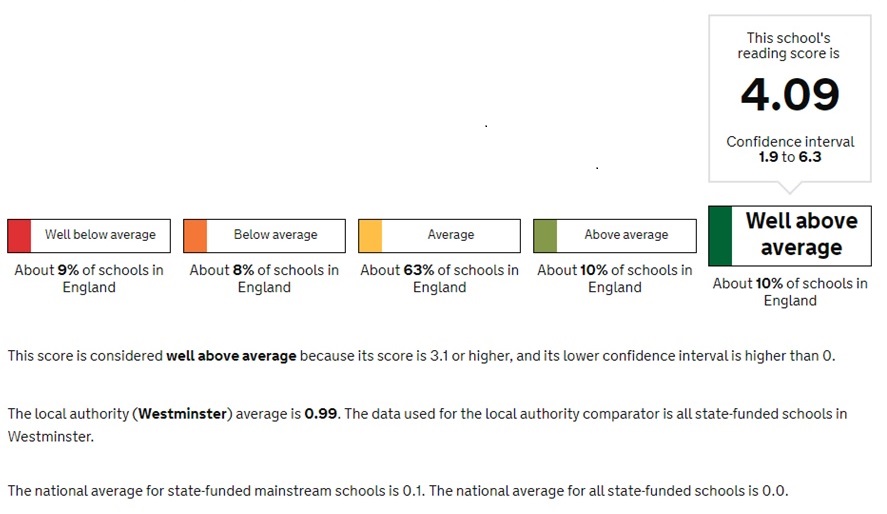 Writing progress score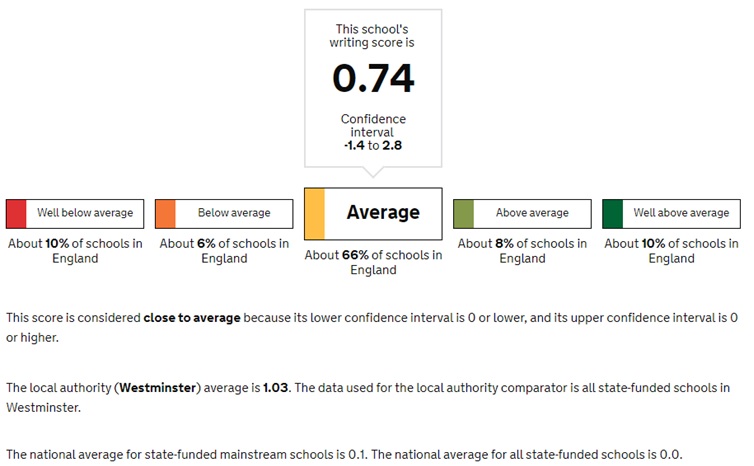 Maths progress score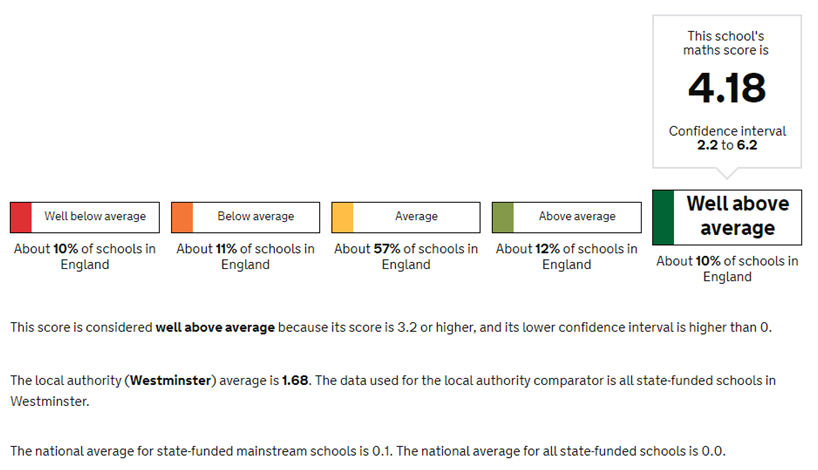 Reading, writing & maths attainment combined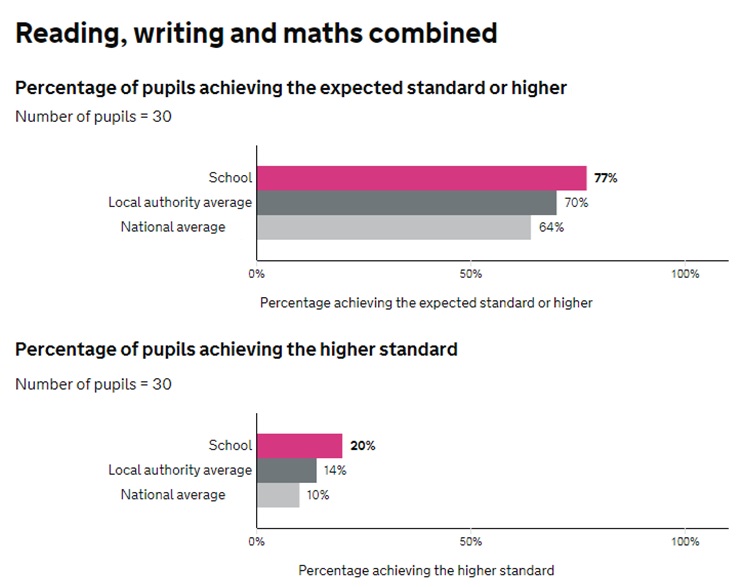 Key Stage 2 three year average

KEY STAGE 2 Reading, writing & maths combined attainment 2018

| | | | | | |
| --- | --- | --- | --- | --- | --- |
| Groups | Number of children | EXS % school | EXS 5 national | GDS % school | GDS % national |
| All pupils | 30 | 77% | 64% | 20% | 10% |
| Disadvantaged | 12 | 58% | 74% | 8% | 12% |

KEY STAGE 2 Disadvantaged pupils progress scores* 2018

Reading
Writing
Maths

Progress score for 12 disadvantaged pupils from Key Stage 1 to 2.

(Confidence interval*)

2.95

(-0.4 to 6.4)

-1.66

(-4.9 to 1.5)

1.30

(-1.8 to 4.4)

National average for non-disadvantaged pupils
0.31
0.24
0.31
*Progress scores. The government calculates the scores by comparing the key stage 2 test and assessment results of pupils at this school with the results of pupils in schools across England who started with similar assessment results at the end of key stage 1.
*Confidence interval. It is difficult to say with certainty how much of the progress scores are down to the school (which may have scored higher with a different group of pupils) and how much is down to the pupils (for example some may have performed well at any school). The confidence intervals reflect this uncertainty. If the confidence intervals for 2 schools overlap, then we can't say for certain that the 2 progress scores for these schools are significantly different.
Generally speaking, the greater the number of pupils, the smaller the range of the confidence interval. For smaller schools, the confidence interval tends to be larger, since fewer pupils are included, and therefore the score will be more greatly impacted by performance of individual pupils.
A school is above average if their progress score is above 0 and the whole confidence interval is above 0. Similarly, a school is below average if their progress score is below 0 and the whole confidence interval is below 0.
Key Stage 1 SATs 2017-18 Results
Overview
| | | | |
| --- | --- | --- | --- |
| | School 2017 | School 2018 | National 2018 |
| Reading - achieving expected standard (EXS) | 92% | 86% | 75% |
| Reading - achieving greater depth (GDS) | 9% | 44% | 26% |
| Writing - *EXS | 81% | 76% | 70% |
| Writing - *GDS | 2% | 16% | 16% |
| Maths - EXS | 87% | 78% | 75% |
| Maths - GDS | 4% | 34% | 21% |
| Year 1 Phonics Check - achieving expected standard | 75% | 94% | 71% |
* EXS - achieving the expected standard GDS - achieving at a greater depth
Key Stage 1 Groups
| | | | | | |
| --- | --- | --- | --- | --- | --- |
| Reading | Cohort | EXS % school | EXS % national | GDS % school | GDS % national |
| All pupils | 50 | 86% | 75% | 44% | 26% |
| Boys | 24 | 83% | 71% | 46% | 22% |
| Girls | 26 | 88% | 80% | 42% | 29% |
| Disadvantaged | 3 | 67% | 79% | 0% | 29% |
| Other | 47 | 87% | 79% | 47% | 29% |
| Ever 6 FSM | 3 | 67% | 79% | 0% | 29% |
| Children looked after | 0 | n/a | 76% | n/a | 26% |
| SEN with EHC plan | 1 | 100% | 75% | 100% | 26% |
| SEN Support | 4 | 0% | 75% | 0% | 26% |
| English as additional language | 27 | 85% | 75% | 48% | 26% |
| | | | | | |
| --- | --- | --- | --- | --- | --- |
| Writing | Cohort | EXS % school | EXS % national | GDS % school | GDS % national |
| All pupils | 50 | 76% | 70% | 16% | 16% |
| Boys | 24 | 75% | 63% | 13% | 12% |
| Girls | 26 | 77% | 77% | 19% | 20% |
| Disadvantaged | 3 | 33% | 74% | 0% | 18% |
| Other | 47 | 79% | 74% | 17% | 18% |
| Ever 6 FSM | 3 | 33% | 74% | 0% | 18% |
| Children looked after | 0 | n/a | 70% | n/a | 16% |
| SEN with EHC plan | 1 | 100% | 70% | 0% | 16% |
| SEN Support | 4 | 0% | 70% | 0% | 16% |
| English as additional language | 27 | 81% | 70% | 26% | 16% |
| | | | | | |
| --- | --- | --- | --- | --- | --- |
| Maths | Cohort | EXS % school | EXS % national | GDS % school | GDS % national |
| All pupils | 50 | 78% | 76% | 34% | 22% |
| Boys | 24 | 83% | 75% | 46% | 24% |
| Girls | 26 | 73% | 77% | 23% | 20% |
| Disadvantaged | 3 | 33% | 80% | 0% | 25% |
| Other | 47 | 81% | 80% | 36% | 25% |
| Ever 6 FSM | 3 | 33% | 79% | 0% | 24% |
| Children looked after | 0 | n/a | 76% | n/a | 22% |
| SEN with EHC plan | 1 | 100% | 76% | 0% | 22% |
| SEN Support | 4 | 25% | 76% | 0% | 22% |
| English as additional language | 27 | 81% | 76% | 41% | 22% |
EYFS 2018
| | | | | | | | |
| --- | --- | --- | --- | --- | --- | --- | --- |
| | 2017 school | 2018 school | +/- | LA | Inner London | National | Difference |
| Achieving "Good Level of Development" GLD | 77% | 92% | +15% | 72% | 73% | 71% | +21% |