Our Values
At St Peter's the whole school community collaborates to pursue the endeavour that 'Together, we will realise the potential God has given us'. All children, staff and parents/carers actively engage in this through The St Peter's Way.
St Peter's Way
We are keen learners.
We are kind.
We are polite.
We are safe.
Our Christian Values

At St Peter's our Christian values underpin all we do. The breadth and depth of our curriculum is diverse and enriched to ensure the appropriate spiritual, moral, social and cultural development of all the children.

Our Christian Values are; we will concentrate on each one during the term.

We place a strong emphasis upon the value of Pupil Voice, independent thought and learning skills. We help the children understand the importance of respect and tolerance of different faiths and beliefs.

We promote healthy and appropriate moral development and positive behaviour throughout all we do at school.

Each term children, staff and parents are asked to concentrate upon one of these values. We celebrate and share these values through all we do at school.
The School Prayer
Almighty Father,
We pray that our school and community may be full of your love.
Help us to be the people you want us to be
And to shine as your lights so that one day the world may be your kingdom.
Amen
Our British Values
At St Peter's we define our British values as: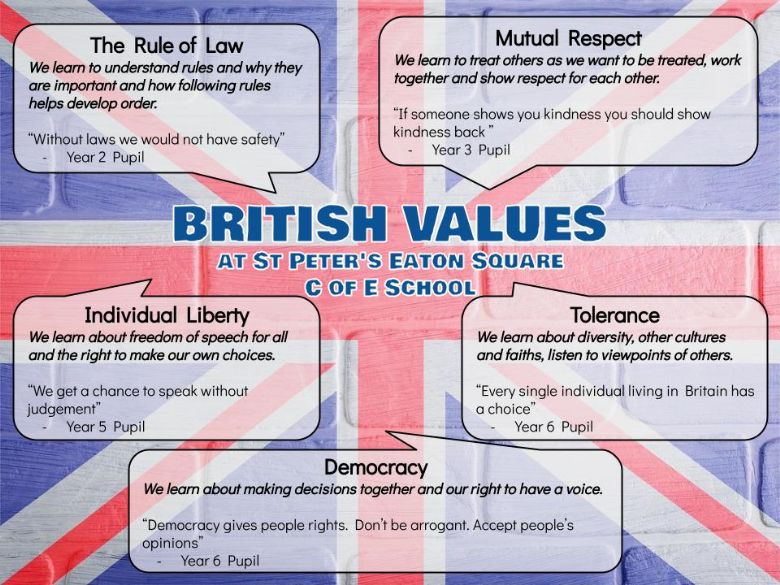 Schools are also guided by the Spiritual, moral, social and cultural guidance document (SMSC), which can be found here - DfE Guidance
Behaviour and Pastoral
A high standard of discipline and politeness is expected at all times with individuals showing respect for each other. Bad language will not be tolerated. All serious breaches of discipline will be recorded and, in the event of problems, the parents of any child involved will be asked to come to the school to discuss the matter with the child's teacher or the Head.
Parents are asked not to teach their children to retaliate if there is a dispute. It is natural to defend oneself, but it is better to try not to react aggressively. Fights usually start through misunderstandings and quick tempers, and aggressive attitudes violate the sense of understanding, justice and forgiveness that the school attempts to foster.
Racist language is not tolerated and anyone expressing racist views in writing, speech or by their actions would be actively opposed. Racism is not acceptable in any form or at any level.
Our Behaviour and Discipline policy reflects these key principles.
Educational Aims for St Peter's School
St Peter's is a Church of England school where we strive to achieve excellence within a Christian environment. We aim to create a happy school with equal opportunities for all which will stimulate and nurture a sense of curiosity and thus enable children to reach their full learning potential. Each child should be encouraged to develop a sense of independence whilst promoting mutual support.
Intellectual:
To foster and stimulate a spirit of enquiry.
To enhance pupils' developments intellectually, aesthetically, spiritually and physically.
To enable pupils to discover and develop their talents and to use their knowledge and abilities positively.
Social:
To promote understanding and respect for others, to develop a sense of justice and compassion and to recognise and oppose all forms of prejudice where it exists.
To foster a sense of responsibility and the realisation that each individual has a role to play in society.
To encourage each pupil to care for and respect the environment.
Personal:
To develop a healthy self esteem.
To enable each pupil to make informed, independent decisions and choices.
To develop commitment and self-discipline.
To help children achieve realistic goals in life.
To prepare children for a future world of work, leisure and technology.
To encourage an enjoyment of and enthusiasm for learning.