Our Values
At St Peter's the whole school community collaborates to pursue the endeavour that 'Together, we will realise the potential God has given us'. All children, staff and parents/carers actively engage in this through The St Peter's Way.
St Peter's Way
We are keen learners.
We are kind.
We are respectful.
We are safe.
Our Christian Values

At St Peter's our Christian values underpin all we do. The breadth and depth of our curriculum is diverse and enriched to ensure the appropriate spiritual, moral, social and cultural development of all the children.

Our Christian Values are;

We place a strong emphasis upon the value of Pupil Voice, independent thought and learning skills. We help the children understand the importance of respect and tolerance of different faiths and beliefs.

We promote healthy and appropriate moral development and positive behaviour throughout all we do at school.

Each term children, staff and parents are asked to concentrate upon one of these values. We celebrate and share these values through all we do at school.
The School Prayer
Almighty Father,
We pray that our school and community may be full of your love.
Help us to be the people you want us to be
And to shine as your lights so that one day the world may be your kingdom.
Amen
British Values
At St Peter's we define our British values as: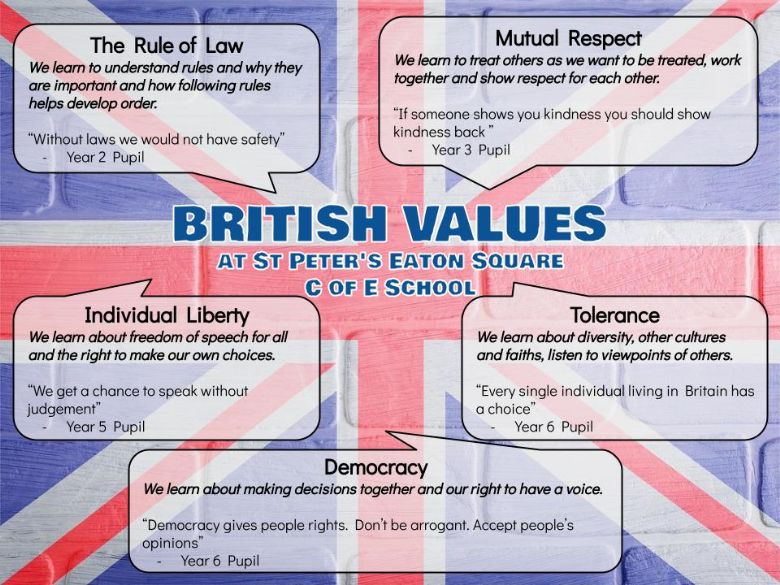 Schools are also guided by the Spiritual, moral, social and cultural guidance document (SMSC), which can be found here - DfE Guidance
Behaviour and Pastoral
At St Peter's we promote positive behaviour in our pupils and create an environment in which they can flourish.
We recognise that all behaviours are driven by emotions. With this in mind, we work hard to develop emotional intelligence, leading to our pupils developing emotional literacy. We believe children need to learn to communicate their feelings and emotions to develop positive behaviours. It is our aim to develop a child's capacity to manage their behaviours by educating them about the emotions they are experiencing. We do this by guiding them using Emotion Coaching. We also promote preventative behavioural strategies where possible and use our zones of regulation and Level Up-based strategies for children to use to regulate their emotions.
We value the importance of building up relationships between staff and pupils and the importance of treating everyone with respect. St Peter's School is a place where every person has the right to be themselves and to be included in a safe and happy environment. We are committed to inclusive principles and recognise that, with SEND pupils or those with particular vulnerabilities, there may need to be reasonable adjustments made to accommodate their specific needs. We recognise that some pupils will need more adult support (co-regulation) before they are able to be independent in regulating their emotions and behaviours (self-regulation).
We specifically aim to:
Support children to develop their emotional regulation skills, which in turn will impact upon their ability to regulate their behaviour;
Demonstrate consistent approaches to behaviour by raising awareness of emotions and self-regulation throughout school;
Help all children to become self-disciplined, able to accept responsibility for their own actions and make positive choices;
Develop in all children the ability to listen to others; cooperate and to appreciate other ways of thinking and behaving.
Our Behaviour Policy reflects these key principles.
Educational Aims for St Peter's School
St. Peter's is a Church of England school where our primary aim is to achieve excellence within a Christian environment. Our goal is to establish a joyful learning environment that offers equal opportunities to all pupils, stimulating their curiosity and enabling them to reach their full potential. We aspire to encourage each child to develop independence while fostering a sense of mutual support.
Intellectual Development:
Nurturing and kindling a spirit of curiosity.

Enhancing the intellectual, aesthetic, spiritual, and physical development of our pupils.

Empowering pupils to explore and nurture their talents, utilising their knowledge and abilities positively.
Social Growth:
Promoting understanding and respect for others, cultivating a sense of justice and compassion, and actively opposing all forms of prejudice.

Cultivating a sense of responsibility and an understanding that every individual has a role to play in society.

Encouraging each pupil to care for and respect the environment.
Personal Development:
Fostering a healthy sense of self-esteem.

Equipping each pupil to make informed, independent decisions and choices.

Developing commitment and self-discipline.

Assisting children in achieving realistic life goals.

Preparing children for the future world of work, leisure, and technology.

Instilling a passion for learning and cultivating enthusiasm for knowledge acquisition.